The Kitchen Display System (KDS) comes with kitchen-friendly hardware and connects your back-kitchen team to the front serving team including point of sale and kiosk. Detailed analytics & reporting of individual item menu, guests, and other restaurant details helps you make informed decisions during most important meal hours.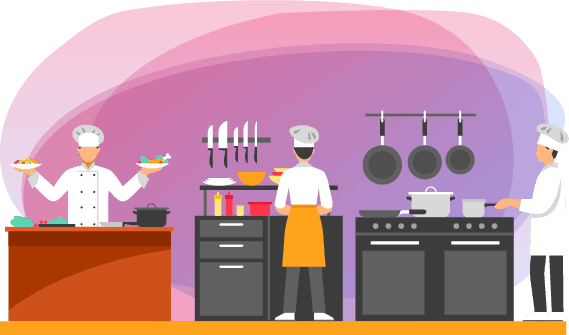 Menu display also includes individual item preparation time to help make informed decisions. Helps the kitchen team with updating an order or with cancellations. Also produces food waste reports.
Go green and adopt digital communication with the Kitchen Display Screen and save on paper, printer and ink costs. Moreover, KDS will help you improve order visibility, eliminate order misplacement or alteration and with flexible and inexpensive hardware to meet your kitchen's needs, you'll start seeing the Return on Investment immediately.
Kitchen Friendly Hardware
The
foodzpro
Kitchen Display software is an all-inclusive solution for all world-class kitchens. It includes kitchen-friendly screen hardware and comes available with various varieties of products which can be perfect fits your business.
Seamlessly connects to our all-in-one food services system, including the Kiosk and Back office software. It will be easy for managers to manage and keep track of everything happening around and keeping central control on hand.
Looking for Solutions
To Boost your Success
FOODZPRO Kiosk can be used at all your desired places like Carnival Stall, QSR and FSR, Stadiums & Arenas, Theme Parks, Airports, Cafes, Bars, Food Trucks, and Bakery & Sweet Shops.
foodzpro's

offers

Your restaurant is as exclusive as the solution you need.
Whether you're opening or improving a single restaurant, multiple restaurants, or a national chain, we can support.
Increase sales Revenue
By increasing order processing speed & decreasing walk away from lines, foodzpro is guaranteed to increase your overall sales revenue.
Reduce Operational Cost
By helping in improving the order accuracy and reducing ans saving human hours, foodzpro helps you greatly reduce operational costs.
Centralized Menu Management
Our cloud-based technology, helps to update the pricing, inventory and special offers through our centralized menu board from anywhere.
24X7 Support 
foodzpro, you will get excellent customer service and support. you will never be stuck in a phone queue or have to talk to a robot for any questions you may have or issues you may be facing. our team is on call 24/7 just for you!
Inbuilt utilities with
foodzpro
Technology for restaurants in the QSR, FSR and fast food industries must highlight speed and order accuracy. Find your solutions.